Kiri Dalena is a visual artist and filmmaker known internationally for her works that lay bare the social inequalities and injustices that continue to persist, particularly in the Philippines. Her active involvement in the mass struggle to uphold human rights amidst state persecution is the foundation for her art practice that underscores the relevance of protest and civil disobedience in contemporary society.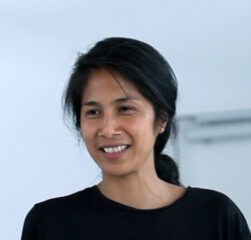 Lizza May David is interested in gaps and silences in personal and collective archives and experiments with forms of activation or disturbance through abstract painting. She navigates through affects and moments that elude representability, leading to experimental approaches for the very same reason. She does not assume the existing binary simplifications of the world, but rather thinks relationally in crossroads, turning points, overlapping and branching out, finding further expression in collaborations, architectural interventions or installations.
Lizza May David (b. Quezon City, Philippines) lives and works in Berlin and studied at the Akademie der Bildenden Künste in Nuremberg, the École nationale supérieure des beaux-arts de Lyon (France) and at the Universität der Künste Berlin.
Jaclyn Reyes (b. 1986, Los Angeles, CA) is an artist, designer, and cultural organizer based in New York City. Her work is not defined by the disciplines nor materials she engages with. As a diasporic Filipina in the United States, her work is driven by explorations of historic and epistemic violence  and the mechanics of trauma within culture. How could those of us with troubled histories honor our cultural memory—or lack thereof—without romanticizing or thoughtlessly repeating it? Can we metabolize our resilience to resurrect our most authentic imaginations for the future? These questions prompt continuous interrogation of community, place, representation, history, trauma, and transnationalism. Reyes studied Art Photography at Syracuse University and Arts in Education at Harvard University.
---
Joel Bermudez first worked as a graphic artist, mainly doing final art and layout in a design company that worked exclusively for an advertising agency. Later work would find him designing, animating, and developing for websites and other online content. At present, he is a freelance designer and developer for both on- and offline content. He is helping the artists present their work and research here at the Snare For Birds project.